What can I say, little boys love tractors. At least mine do. Little brother is very excited about "the red trailer that can drive backwards,
all by itself,
mommy!". He's referring to the weight that the tractors have to pull over the distance of 100 meters, the weight moving forward on the trailer as they go so it gets harder towards the end. The brothers discussing the driving style and chances of winning of the next tractor... They're quite the experts these days.
Then we had an attraction special to this particular event. Little monster trucks, ready to ride for the brothers (for a fairly steep price if you ask mommy...).
Funny little red cars with three wheels...
And some historic tractors to look at. They know all the brands. Maybe I am taking them to these events a little too often? Hmmm...
Oh, and no, I don't always dress my kids in matching clothes. But I do prefer them wearing the same and brightly colored tees when I'm out alone with them - makes it easier to spot them among all the people. I have to be careful though, little brother threw a tantrum last week when he couldn't wear the same tee as big brother, since they obviously don't have all matching clothes.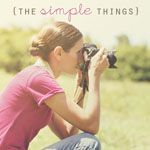 Happy Sunday,
Swenja