Part of our activity
Advent calendar
was a tea party. I found this tin tea set that was not too girly for the boys, which I knew they could also use in their kitchen. I included some tea and anise cookies, and we had our tea party. Amazingly, the brothers, who are usually just one loud blur running past me and racing around the dining room table, actually sat down and had a very nice, cultivated and quiet tea for half an hour or so. After that, it was back to chasing each other around the house, screaming. Of course.
Apparently I was not the only one documenting the simple things...
Joining Rebecca's simple things Sunday again and hoping to get back into the habit!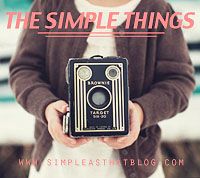 Swenja