Ugh.
That's basically all I can say.
Ugh.
I hear someone call "Mommy? Mommy! M-o-m-m-y!" what feels like every five seconds. The cats follow me around the house, meowing. There are dust bunnies having parties under my couch, and a laundry mountain that laughs at me because there seems to be no way to conquer it today. But I will. Still, I get so tired of it sometimes.
I fell asleep on the couch at 7:30pm on Friday, after having raced to the pediatrician right after picking up big brother from school and hearing from our neighbor that her kids have scarlet fever. And they all shared the chocolate fountain last weekend. Luckily although my kids have been sick for two weeks and we've had our share of sore throats, fevers and midnight barf, it was not scarlet fever. And they are much better now and have started to eat like normal again. Which also means they have their energy back.
Yesterday I took my husband to the emergency clinic. His throat is so sore he can't swallow, and his fever won't go down.
Outside it started to get gray and rainy again. Temperatures are supposed to drop further today and it's supposed to start
snowing
again. Can you believe that? Snow.
Again
.
Oh, and I have to get to work tomorrow, for a long, long day no less.
It seems for every thing I take care of, there are five more screaming for my attention.
And although I don't get it all done, it's the little things I do get done, that make my day. I am still exhausted, but I feel better for the simple things. Like a clean kitchen. Folded laundry. A birthday gift made for a good friend. Taking both kids to swimming lessons. Making tea from sage that grows in my own backyard.
And these simple little bursts of brightness: A bowl of clementines...
...and some daffodils.
Both bought quickly on the run, at a discount store I don't usually shop at. But Tuesday after guitar practice little brother started to have a meltdown, so we just quickly grabbed a few things since it was on our way. At the checkout I noticed the daffodils - tiny, cheap little bunches, sold as they were, not even standing in water. I bought one anyway, and put it in a mug with water while making dinner, prepping school lunch and trying to keep little brother from screaming.
Not even two days later, I had this burst of bright yellow abundance in my kitchen.
I got some more daffodils yesterday, and they already started to blossom.
Maybe it's just me, but even when I'm exhausted and everyone is sick, the rest of the house a mess and it's cold and rainy outside - some bright yellow daffodils and orange clementines on my clean and uncluttered kitchen counters make all the difference.
Linking with Rebecca's simple things sunday today.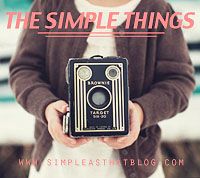 Happy Sunday
Swenja