Every year I forget how lush my garden gets once summer is here. It looks so bleak in the winter, and even worse when you cut the perennials back and take out all the dead leaves in the spring. There's so much space in between the plants. The geranium and catnip are barely visible, just tiny, tiny green leaves peaking from underneath last year's cut-back brown stems. The grasses are a sad mess and I always have to resist the urge to go out and buy new plants to fill in the gap.
At first, the daffodils come and fill the gaps. Then the white catnip and geraniums (I have a about seven different kinds and I love the all) show and start to bloom. The grasses get taller and greener again.
And all of a sudden, it's summer. The roses are in full bloom. The oleander come back from the greenhouse where they were all winter. The lavender, gaura, hemerocallis, alchemilla... everything gets huge all of a sudden. There is not an inch of space in any flower beds, they are overflowing.
Every year I remind myself I really don't need any more plants.
What are your garden favorites at this time of year or any other?
Linking up with Rebecca at the simple things sunday.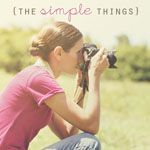 Happy Sunday!
Swenja