Ahhh, summer. I know I've been a little absent here lately, but hey,
summer
is finally here. Some years that is a big deal in these parts of the world.
So there are other things to do than sit in front of a computer and type.
Like watering the garden. Cutting lavender. Cooking pizza on the grill. Sitting outside on the porch doing nothing at all. Maybe having some grilled white peaches with vanilla ice cream and biscotti for dessert. Watching the sunset at 10pm. Getting up early the next day, looking out and just knowing it's going to be another wonderful, sunny day. Getting kids dressed in 10 seconds flat. Eating tomatoes right off the plant.
Or cooking apricot jam.
Fresh, ripe and fragrant French apricots from the Friday market. I bought enough for two batches of jam but since I ended up, uhm, trying a few, at the end I had to throw in two peaches to make it work. The peaches gracefully agreed to mingle with the apricots, triple sec and vanilla and work together. Yum.
I usually cut my fruit for jam up the day before, let it sit covered with sugar overnight and then cook jam the next morning.
There is nothing that says summer to be more than this bright and deep yellow little glass of sunshine, bursting with flavor and eaten on a freshly baked roll with lots of butter on a very, very cold Sunday morning in the middle of winter.
Isn't that one of the best things about making jam? To know that you preserve all this flavor, all this sunshine for darker and colder days.
Hope you enjoy this week's simple things as much as I do.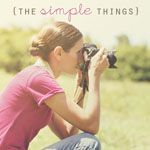 Swenja