Really, sometimes I look at my cats with a tiny bit of envy. No matter how busy and loud things are around them, it doesn't faze them the least bit. Well, at least one of them seems to have mastered that Zen-like ability to relax in the middle of the biggest chaos.
See what I mean? This cat is the most relaxed being on the planet. He actually
likes
being in the middle of everything, boys running around and screaming, riding bikes. Maybe that comes from being able to just leave when it gets too much and go to sleep at any time, any day. Ahhhh, can you imagine? No wonder he's relaxed!
Sharing with Rebecca's simple things.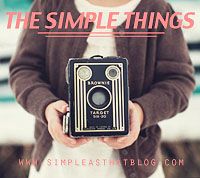 Happy Sunday!
Swenja