One of the best things about Bavaria (after the gorgeous landscape and the beer, as the Mr. would point out) is the food.
Oh my.
You don't even have to visit a restaurant for that (although I highly recommend doing so daily. That's what vacations are for, right?). One of my favorite simple things this week was a enjoying a simple lakeside picnic lunch, consisting of fresh strawberries, soft pretzels (Brezn) and the best yogurt around.
I'm picky about my yogurt. We usually make our own, and my kids eat it plain with homemade jam or fruit. I never buy strawberry yogurt, because let's face it, there simply isn't much strawberry in a strawberry yogurt. Well, that's different here. We found one tiny local store that carries a local brand of yogurt that is simply yogurt, nothing added other than some strawberries and a little bit of sugar. Yum.
And really, what else do you need with a view like this?
It was even warm enough for bare feet in the lake. That and all of their shoes and pants had gotten wet already. Sigh. What is it with boys and water? They can't stay dry for two minutes once they're within sight of the tiniest puddle.
We had a little visitor trying to get her share of lunch, too.
I'm missing picnics at the lake already, although I do hope we might be able to have a last one tomorrow. Linking up with Rebecca's simple things sunday.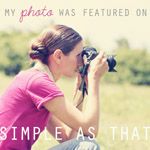 Happy Sunday!
Swenja