I love wildflowers. We live in a relatively new development, and all the lots not occupied yet but not farmland anymore have turned into a gorgeous sea of wildflowers: white and yellow chamomile, blue cornflowers and bright red poppies. So simple. So pretty.
So when my boys aren't racing around on one their way too many vehicles (two bikes, one strider, one tricycle, one scooter, one small and one giant gokart. Any questions?), they're picking flowers for mommy.
Again
.
Don't you just love summer?
Linking up with the simple things sunday. Can't wait to see everyone's photos this week!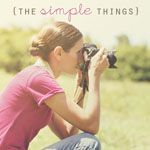 Happy Sunday,
Swenja