Today was the first day of school after a two-week fall break.
It felt
very
early this morning. And it also felt
very
dark this morning. But once we managed to get out of bed, get dressed, have a quick breakfast and make it to school on time, we got rewarded with an absolutely beautiful day. Blue skies and the air warm enough to leave the jacket at home.
The best part? Today's homework assignment was to collect leaves. So what better day to take the boys for a walk, hunting for leaves, feeding the deer along the way and finally manage to take some fall photos this year?
We found some really pretty leaves...
... and some not so shiny ones (which I still like).
The boys fed two big bags of bread to hungry deer.
Well, some of them weren't all that hungry apparently!
Others couldn't get enough.
This one was funny, looking straight at me and posing until I pressed the shutter.
The little one was so cute!
We also found some mushrooms along the way (not so yummy).
Time to head back home, but not without stopping at big brother's best friend's house for an impromptu playdate. They're in the same class, so he and his mom joined us for homework today.
And we worked on that assignment all afternoon... sort of.
Linking up with Rebecca's simple things today. And, as I just noticed,
last year feeding the deer
was my very first time linking with the simple things sunday!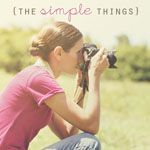 Hope you all have a great and sunny week!
Swenja