Yep, it's more cat pictures this week (for Meow part 1 go
here
). But hey, I did pick a
different
cat. And in case you're wondering: I have one more cat. Maybe for next week's post...
Meanwhile, this is Lilly. Maybe you have met her
here
. In case you didn't, well, I'll explain a little. We got her when she was tiny. These days she's huge. And no, that's not all fur. It's fat. This is one big, fat cat. She doesn't like people. She hides under the bed as soon as she hears the doorbell. If you come to my house and actually get to see her, you know that you've been here often and are practically family. Every day at 10:30 she gets cuddly. She sits on my husbands lap every night, but she doesn't like it when he talks to her. She's so big, she makes dents in my sofa cushions (big dents). She likes to play and brings little felt mice back to you when you through them, just like a dog.
She's one crazy cat. And that makes me happy.
Promise to find something else for next week's simple things. No cats, flowers or cakes. Scratching my head already...
Linking up with Rebecca's simple things sunday again.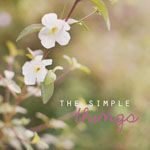 Happy Sunday!
Swenja