That's always how it goes, isn't it? Just last Sunday I said it
felt like Spring
. The very next day it got cold. When I woke up on Tuesday, the world was frosted. It looked gorgeous. Big brother was sick and still sleeping, but on the way back back from dropping little brother off at preschool, I snuck out with my camera and snapped a few pictures.
In between making tea, letting the cat out, getting a blanket, getting apple juice, letting the cat in, making a different kind of tea ("But Mommy, that's not my favorite kind of tea!"), tidying up the kitchen, letting the cat back out again ("Meow!!"), getting more apple juice and canceling our play date for that afternoon, I tried to find out how to get the photos from my camera into the new laptop.
Took a while to understand how photos are organized (first time Mac user, what can I say). Once I got that done I played with some of the effects. Nice. I don't usually edit my pictures other than rotating and changing the file name, but I could get used to this... I haven't been taking any black and white images ever since I went from SLR to DSLR because I never liked the washed-out way my images looked when converted to b&w. I miss it and might do it some more now.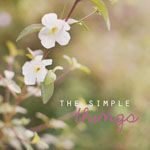 Linking up to the Rebecca's
simple things sunday
again.
Lots to learn, I'd say. What's the best thing you learned about photography recently?
Stay warm,
Swenja