Today we finally got some sunshine. I almost forgot what that looks like. It's still Winter, but with the mild temperatures and the sunshine it feels like Spring.
It certainly looks like Spring, too, you just have to look closely.
A tiny wild violet
Hey there, you're about two months early!
More tiny weeds blossoming.
Blue skies - finally!
Lots of puddles left from all the rain.
More weeds...
That's an image I would usually get in Spring.
Mushrooms.
Love the fuzz on this weed.
Wild chamomille. Crazy.
Now that's more of a Winter photo!
Muddy boots - time to go home.
It's really been a strange winter. After two years of snow and icy temperatures, this winter we've got lots and lots of rain. And then some more rain. Obviously we've also had very mild temperatures, otherwise it would have been lots of snow.
I took my camera and went across a field today. At first I thought there wouldn't be much to take pictures of. The sky was blue, but the trees are all bare and it's basically all brown. Turns out you just have to look closer.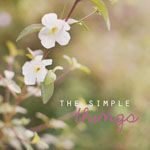 I will be linking up with Rebecca for
simple things sunday
. Yeah I know, it's only Saturday, but little brother is sick and I have to make the most of the time he does sleep. Who knows what tomorrow will bring.
Hope you have a great Sunday,
Swenja