Ah, Spring. It's here. Or it was, at least. For two gorgeous days. Being outside
without
a jacket or a hat. Amazing.
Little brother discovered he could climb the ladder to the upper part of the playhouse all by himself. Oh. Okayyy.... While that made mommy a little nervous, he loved the view from up there.
And kept looking out the window. Unless mommy went inside to grab her camera. Of course.
"No mom, I don't need a jacket!"
Watching the sun go down.
Pretty, isn't it?
Linking up with the simple things.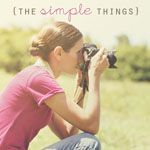 Happy Sunday!
Swenja