The other day I went downstairs to grab my camera and take some photos of a project I was working on. Before I went up the stairs again I looked out the window. It had been raining and skies were gray, but it still looked lovely out there. Quiet. Peaceful. The few colors left on this gray day were saturated by the rain.
I put on my wellies and went out.
The trees were bare, showing off even the tiniest little twig.
After weeks of everything being frozen, there was water everywhere, dripping from the branches...
...and collecting on the weeds.
Bright green moss under all the brown and gray.
Lovely silhouettes.
Rain glistening.
The sad thing is, that all of this will be cut down and plowed under this year to make room for houses. I took countless pictures just to document the beauty of it all before it's gone. And I can't even complain because after all, my house sits on a former corn field, too.
Linking up with Rebecca's simple things sunday.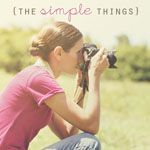 Have a quiet Sunday - and a wonderful week!
Swenja