Little brother is just not a morning person. Especially when he's slept a little longer and on top of that didn't have a big dinner, so by the time breakfast comes, he's starving. And cranky. Quite cranky, actually.
This photo has actually been taken on Easter morning, but I haven't had a chance to share it yet. Little brother wasn't in the best mood for the egg hunt - one thing too much between him and his breakfast I guess. So once we got a few eggs, he preferred to go inside and make breakfast with daddy.
When they had the rolls in the oven, daddy got a huge big hug. Awwwwww....
Linking up with the simple things today.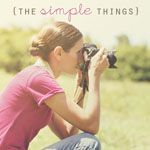 I have to admit that I failed miserably at the challenge to actually have a photo of myself twice before Mother's Day. I don't even have one. Maybe I need to make this a challenge here on my blog, like a self portrait once a month or so. Any other advice on getting out from behind the camera? Experiment with self timer? Give a photography crash course to your loved ones so maybe they take a decent shot of you? Or simply stop worrying about whether you like a photo of yourself or not and just focus on the fact that there should be
some
photos of mommy, too? What has worked for you?
Happy Mother's Day!
Swenja