What do boys do when the see a big pile of dirt? Right, climb all the way to the top and throw down rocks and pieces of dirt.
Blue skies! You have to love blue skies on a Sunday morning.
We even found some blossoms on the way. Well, at least I did. The boys were too busy throwing dirt and riding bikes. Oh well.
Wishing you a sunny Sunday!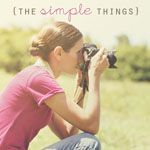 Swenja