What is it about cats and boxes?
Is it just my cats who jump or crawl into any size of box within a nanosecond of me putting it down anywhere in the house, even if they've been sound asleep on the other side of the house?
It doesn't matter if it's a tiny box or a huge one. They sleep in it. They fight with it (these boxes can be dangerous, I'm telling you). The fight about it. And finally, they get bored with it and go hunt for a new box. So if you ever come visit me, don't be surprised if there are empty boxes sitting in corners. Or anywhere else for that matter.
Every once in a while we get a really big box. You know, one that the cats actually fit in. The downside is, they have to fight with the brothers over it. Can't have it all I guess.
Then we have smaller boxes. Means they can rest their head on the side.
Sometimes they prefer some privacy when enjoying their box. So stop taking pictures already!
Then there are the tiny boxes. Or huge cats, whichever way you want to see it. Point is, it doesn't fit. Not even close.
Linking up with the simple things Sunday.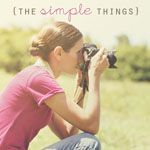 Can't wait to see everyone else's entries this week! I've been linking my posts every week this year, and it's been so much fun.
Happy Sunday!
Swenja