When I was a kid, everyone had training wheels and learned to ride their bike at age 5 or 6. Apparently, those days are long gone. Well, I know my childhood days are long gone, but I didn't realize how much things have changed when it comes to learning to ride a bike. I mean come on, it's a bike and these things don't change, do they?
Let me tell you, they do. These days, you see three year olds riding bikes, and two year olds ride balance bikes. My boys not being as quick with their feet as with their little mouths, they weren't quite as fast. But big brother rode his balance bike at age 3, and a regular bike at age 4. We never even got training wheels.
I was sure little brother would learn that even sooner, but while he can be extremely determined, in this case he apparently decided that there was no need to learn to ride something when he could comfortably ride (or better yet, being pushed on) his tricycle. But since he turned three in March and the weather has been gorgeous until about last Thursday, we pulled out the balance bike, adjusted the saddle to the lowest position and started practicing every day.
By day three, he was riding by himself. He still doesn't go fast and prefers to go downhill, but these things will come sooner that I'd like. By the end of the summer you'll see me running, desperately trying to catch up with a bike and a balance bike and two reckless riders. Why exactly did I convince him to get off the tricycle again?
I actually took the picture above with my phone the week before last. He's doing great by himself, but not so great that I'd like to have a DSLR dangling around my neck when we go practicing. But I figured this moment needs capturing, and that's why phones these days have cameras for, right?
Jut thinking about what phones looked like when I was three. Oh don't even get me started. Anyhow, it also came in handy as we got some ice cream as reward.
Go check out all the other simple things, too.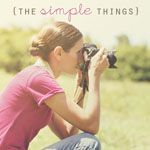 Happy Sunday!
Swenja